Top Balcony Garden Ideas to Give Your Home a New Look
By adding a Balcony garden you can turn your balcony into a dream place, where you spend your personal time to get relaxed and feel comfy. A garden is an important part of a home, it is a place where you can enjoy the sunlight and fresh air with your loved ones. It will give you a feel of a place where you can chill- out with lots of green space and fresh air. To establish a garden it is not compulsory to have ample space. You can make a beautiful garden on the balcony, which will give your home a new look. 
It is an excellent idea to add a garden on your balcony. A garden gives a luxury look to your living room and exterior look of your home, it allows you to combine creativity, colors, and dimensions. Please have a look at the top 10  surprising ideas of balcony gardens, for all whether you live in an apartment with some small space or have a sprawling balcony area. 
Instead of using tiles, you can use a green rug to give it a look of a lawn. The use of artificial green carpet or turf rug can give you the best look of your lawn. You can use synthetic lawn tiles, they are cost-effective and even the easiest way to a balcony lawn. 



2. Use vertical Space
In balconies or apartments, we have less space to create a lawn or a big garden, do not need to worry. Go vertical and use the vertical space of your balcony significantly by hanging the pots of colorful and graceful flowers. Grow your plants in hanging pots and planters on standing bamboo, racks, or climbers; you can use recycled plastic bottles, metal grills, old unused furniture or baskets. Plants like English Ivy or Golden Pothos go well with this style. They have cascading leaves to make the installation look fuller. 
3. Use Climber plants For Railing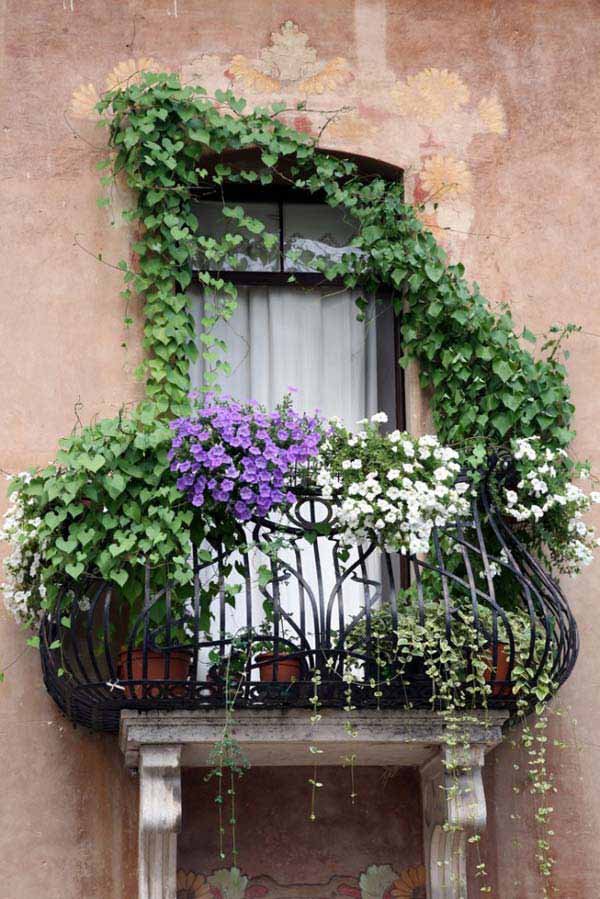 There are some sun-loving plants like Cascading Blossoms; Wisteria Sinensis is the perfect plant that can quickly grow on the wide-open railing planters. This will be an excellent idea for those who own an apartment or have a balcony with the rallings. The climbers cover your balcony ceiling, rails, and walls. They will also provide you a shady and private sanctuary for your balcony. 
4. Build Multi-Tiered, Space-Saving Planters
Multi-tiered plant stands and stacking pots are the great and creative solution for all small balconies, where we have limited space. In this way, you can plant multiple varieties of plants at one place. Multi-tiered pots or stands will also help you to save the water, when you water the top tier, the water drains down, and it will flow through all the soil and provide nutrients and water to all. 
5. Adda Shed
Some plants like anthurium, Peace lilies, and begonia need early morning sunlight; they can't survive in intensive sunlight. In the afternoon, when the sun is on the top, they need a shady area where mild sunlight can enter. You can add small Metal Sheds to the balcony for all the flowering plants that require partial sunlight.
6. Old Shelf for New Plants
We all have old shelves or racks which we may not use any more. You can use this to place your pots on it. It will help you to arrange a vertical garden. In this way, you can arrange a large number of flowers on your balcony without using too much space.
7. Metal or Wooden Stands
If you have a small balcony in size and you want to include lots of flowers within it, the best way out is metal or wooden stands. Through this idea, you can add so many flowers or together on the stand. You can go for different colored positions that will add beauty to the balcony.
8. Accentuate the walls
You can add pizzazz on your balcony walls with some stunning outdoor weathered-material wall hanging, different graphics, or artwork.  If possible, try to go with weatherproof paints with polyurethane spray sealers or other similar treatments, which can make them suitable for outdoor use. 



9. Bring in Greenery
Pack your overhang with a grower loaded up with lavish plants to make the vibe of that terrace you've constantly needed. Add a few herbs to make your overhang smell as lovely as it looks.
10. Think about the furniture
To give your garden space for your comfort and seating, place a small tea table with two chairs, or you can also hang a hammock or swing there. In your small balcony garden with a little seating place, you can feel the fresh air with your morning coffee or tea. Folding chairs and tables are also an excellent idea. 
A proper arrangement of light is the most important factor which you should not ignore. Balconies are the best spot for romance and everyone loves to spend time in the balcony area, in dim and romantic lights. You can decorate your Balcony Garden with dim and small lanterns and different color light series. 
12. Move an open shelving unit outside
It's a great idea to add open shelves in the balcony, it will go well to any balcony, as they provide practical storage and a display zone for pint-sized planters. Racking units can likewise be utilized to cover ugly dividers, making them ideal for leaseholders who aren't permitted to give their scruffy galleries a crisp lick of paint.
Author Bio: 
Amy Lara
Amy writes for topics like Home Improvement, Kitchen decor, Garden or travel-related topics additionally; he has a passion for the metal building industry for more than ten years, Amy has become an experienced building specialist in this industry. His goal is to help people with his vast knowledge to assist them with his best suggestions about different metal buildings such as Carports, garages, barns, utility buildings, and commercial structures.