5 Tips for Successful Email Marketing for Events
Email marketing is often the most single-most effectual channels for the promotion of events. So you must start emailing in the right way if you are thinking of organizing one.
It will be an understatement to say that emailing is just the most common way of communicating. A huge number of emails are received and sent everyday. Naturally, there is tough competition.
In order to appeal to the variety of audiences that the event managers have to communicate with, email messaging has turned out to be an efficient and effective channel of marketing.
So here are some of the ways to enhance the effects of the email campaigns. Take a look.
Create Interest in the Event with Launch Campaign – The event launches just like the product launches can start with informative events that let people know what the event is about and when to expect further details. Even a simple campaign can have emails that will generate the interest and invite people for joining them. You can also include a more robust campaign by including promotional content for the media to create hype. Almost 65% of online buyers prefer purchasing tickets from the brands that they are familiar with. Prior to including the CTA and schedule to purchase the tickets, your email should point to the success of the recent hit (if you already designed an event earlier) and also create a new version of it to commemorate it.
Go for Creating a Subject Line that Triggers the Fear of Missing Out or FOMO – If you create a subject line that is interesting you can gain the most opens. You should let the customers know that the tickets are almost gone or you are offering a limited early bird.
Make the CTAs Bold and Clear – Be it an event invitation or anything else, it is a must that your event-related emails have a CTA or Call-to-Action. Subscribers must skim through emails. Remember they do not spare more than 11 seconds to go through the emails. So use well-defined elements to explain what your email is all about. Instead of a hyperlink, you should use a button. Buttons beat hyperlinks by more than 30% in terms of appeal and conviction. Also choose a noticeable shade for button – something that is rarely used in the email and is exciting too. Added to that, keep the CTA copy concise (2-3 words at most) for gaining maximum attention and impact.
Maintain Your Brand Consistency – This does not mean that all your emails have to look the same. You just have to maintain a cohesive look and feel so that the recipients know who it is from and can relate from emails that you have sent to them previously.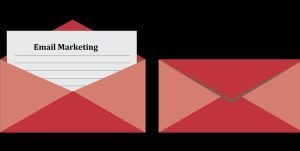 Avoid Being Flagged as a Spam – The consumers redefine what qualifies as spam presently. At one point, the spams used to be equal to scams. They either sold medications that were fake or asked people to send the money overseas. However, the definition has changed today. These days 36% of the scam is advertising. If the subscriber didn't ask for the email, chances are that they may find the info irrelevant and they can report the mail as spam. So the email may not arrive in the rest of the inbox of the survivor. For avoiding that, make sure that you are sending only a quality list of subscribers, keeping emails engaging and relevant, and emailing only those people who opted for it.  Augmenting engagement not just increases event ROI but also tells email providers that you always provide content that are of high-quality. Naturally, this decreases the likelihood of your emails winding up in the spam folder for future campaigns. Engaging and personalized emails also induce the recipients to forward them to their peers and friends. So this is also another way of increasing your subscribers and turnover at your event.
These are just some of the things as suggested by the experts of reputed event organization which will help you to create successful email marketing campaigns enabling you to attract maximum attendees for your event and thus make it a grand success.
Author Bio:
Nitesh Ranjan is a digital marketing expert with keen interest on topics, trends, and ideas related to brand promotion and advertising. He regularly shares information on the ways to market businesses across digital channels for better ROI, increased conversions, and more sales. His blog can help anyone interested in boosting the online visibility in the digital world and eyeing access to a wider and bigger marketplace without spending big on marketing. Trust his digital marketing knowledge to enhance your brand's presence on the internet.